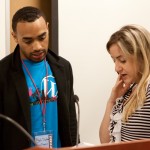 Friday, March 24th is filled with so much learning, networking, and fun that things might feel overwhelming. So, we hope this guide for WordPress 101 Beginner Course will provide you with all the information and answers that will need.
Registration will start at 8am, and a full day's schedule is planned (9am to 4:30pm). Lunch will be provided, so just bring yourself (a laptop or tablet is HIGHLY RECOMMENDED, or something to take notes with) and get ready for a full day of getting up to speed with WordPress. After this workshop you'll be ready for WordCamp Miami weekend (March 25th and March 26th).
Location, Direction and Maps
Please arrive at 8am for Registration.
Address:
9675 NW 117th Ave, #405
Miami, FL 33178
Map:
Parking:
Parking should not be an issue as long as you park in an blank parking space.
Registration, Lunch and Details:
After parking just enter the build through the main enternce and take the elevator to the 4th floor. When you arrive on the fourth floor entrence to Hubb Coworking should be to your left where you will find the reciptionist and/or voluteer to direct you registration.
Registration starts at 8 AM and opening remarks will start sharply at 8:55 AM. You will not have to print anything out but please bring an photo ID with you.
Things You Need to Bring
Laptop or Tablet
Extra laptop battery (power plugs for everyone are not guaranteed)
Pen and paper for notetaking as a backup (hey, we're old school)
Schedule
Code of Conduct:
WordCamp Miami first priority is the safety and respect of all attending. If you see something that isn't right, let us know. If you're not sure whether something should be mentioned or not, refer to our Code of Conduct.